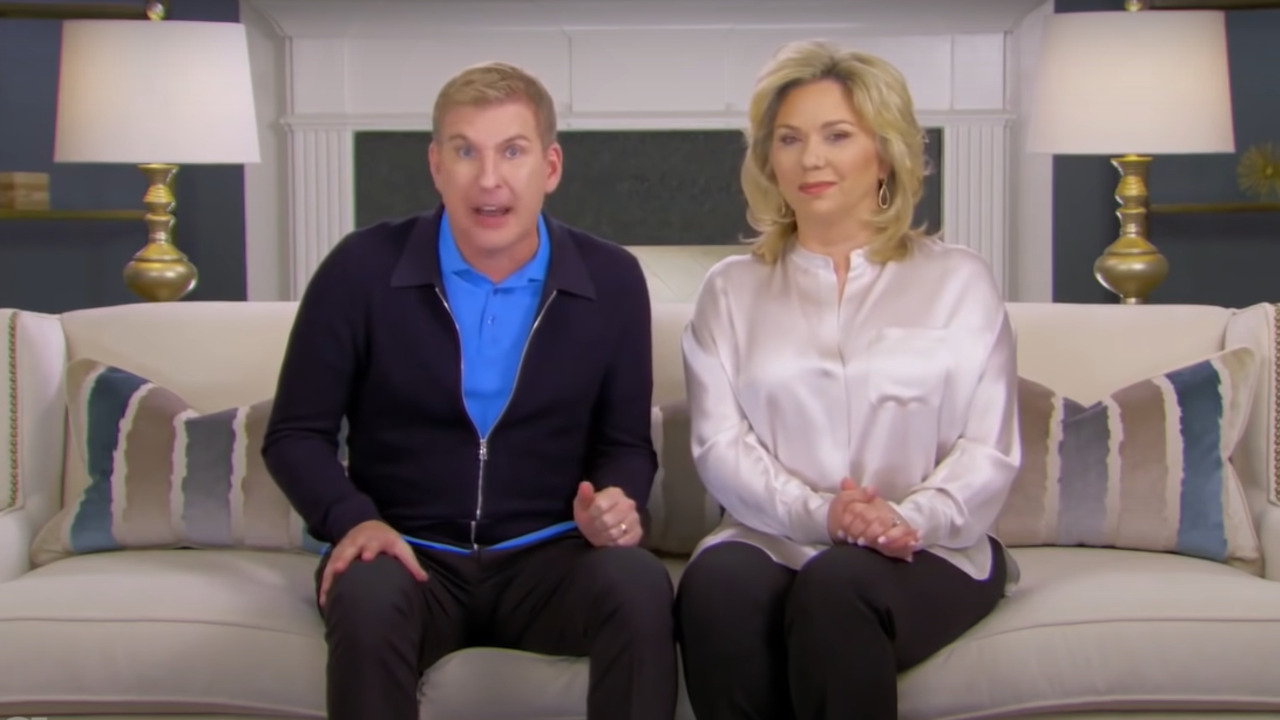 It's been a few weeks since Todd and Julie Chrisley were sentenced to years in prison months after being found guilty of bank fraud, tax evasion and other crimes. Since then, the two reality TV stars have been aiming to get their (legal and domestic) affairs in order. One of the matters that they're currently looking to get situated is the guardianship of the two younger kids that were in their care: 16-year-old son Grayson and 10-year-old granddaughter/adopted daughter Chloe. Right now, the two are set to be placed in the care of Savannah Chrisley, but it looks like a custody battle involving Chloe is now brewing for the Chrisleys ahead of their prison stints.
Angela Johnson, the mother of Chloe Chrisley, is reportedly looking to get full custody of her daughter. TMZ reports that Johnson has been assembling a legal team for at least a few years now in an attempt to get her child back. However, it's noted that the process has allegedly been a bit of an uphill battle for her, which is partially because of jurisdictional issues. At present, Johnson is a South Carolina resident, while Chloe resides in Tennessee. The news outlet obtained footage that shows Johnson making a tearful plea to be reunited with her daughter on a full-time basis: 
Angela Johnson shares Chloe with Kyle Chrisley, the oldest son of Todd and ex-wife Teresa Terry. Kyle lost custody of his little girl in 2016 due to his struggles with drug addiction and, as a result, Johnson and Todd were given joint custody. But later that year, Johnson was arrested for purportedly filing a false Medicaid application (and she denied having done so in the aforementioned video). Todd was ultimately left with full custody as a result. 
Todd and Julie Chrisley are facing a combined 19-year prison sentence (along with 16 months of probation each) and are set to report to jail in January. The two are aiming to appeal the sentencing, and their lawyer is feeling "optimistic" about things working out in his clients' favor. However, it's been alleged that the Chrisleys are unhappy with their current situation and believe that the judge overseeing the proceedings "was making an example of them." The two have also been mandated to pay $17.2 million in restitution and could reportedly put their two homes and other assets on the market in order to pay the debt.
Needless to say, this apparent custody battle could serve as another headache for the embattled stars of the (likely cancelled) Chrisley Knows Best. Ahead of the sentencing hearing, the pair were also dealing with a situation involving teenage son Grayson. Chrisley was involved in a car accident in Nashville a few weeks back, during which his vehicle ran into the back of another. The young man's car was totaled, and he was subsequently hospitalized.
As for Chloe Chrisley, it remains to be seen whether or not she'll ultimately end up in Savannah's care alongside Grayson. There may be no issue for Todd and Julie if Angela Johnson reported legal struggles continue, though there's always the possibility that she gains the momentum needed for her case. While an outcome is difficult to predict, it seems clear that Johnson is going to continue to do what she can to be with her child again.