At least two people died after a tornado touched down in Alabama overnight, as swaths of the South hunkered down under twister warnings.
Tornado warnings in Alabama and Mississippi continued into the early hours of Wednesday morning amid reports of twisters in the region overnight that appeared to leave a trail of destruction. 
Two deaths were reported after a tornado landed in Montgomery County, Alabama, just after 3:30 a.m. local time, Montgomery County Emergency Management Agency Director Christina Thornton said.   
"Thanks to the heroic efforts of our first responders many other lives were saved. We pray for our community as we mourn this tragic loss of lives," Thornton said.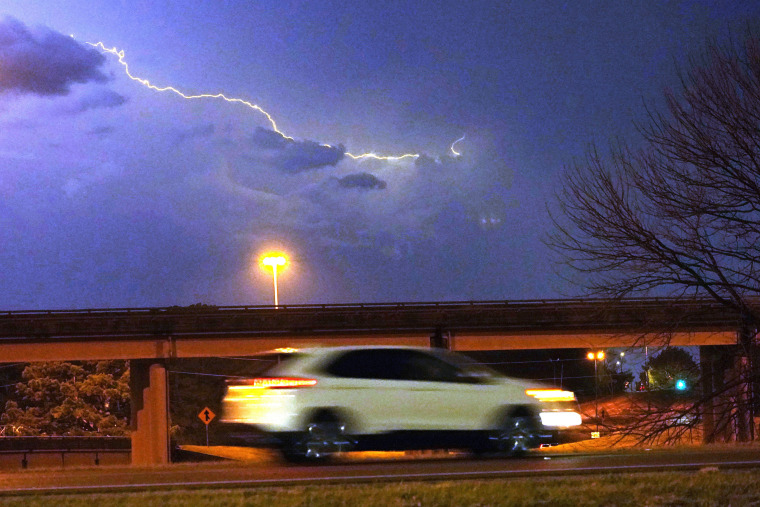 The storms left thousands in the dark with over 38,000 people in Alabama without power, nearly 6,000 in Georgia, and more than 6,600 without electricity in Mississippi, as of 8:40 a.m. Wednesday, according to PowerOutage.us.
Residents in areas across Louisiana, Mississippi and Alabama were forced to take cover late Tuesday as tornado sirens sounded amid a storm system that threatened to put millions of people at risk. 
Tornado warnings were issued Tuesday afternoon and continued overnight as heavy thunderstorms passed from eastern Texas to Georgia, reaching as far north as Indiana.
The National Weather Service confirmed tornadoes had hit the ground in Mississippi on Tuesday, while tornadoes were also confirmed by radar in Alabama, NWS Birmingham said.
In one video shared on Twitter by meteorologist Craig Ceecee, residents could be seen sitting inside a tornado shelter in Starkville, Mississippi, on Tuesday night. 
"The fact that there were SO MANY tornadoes in this area today makes me thankful everything is okay here. To think what could have been," Ceecee said in a tweet.
A number of areas reported damage to homes and neighborhoods, while the Caldwell Parish Sheriff's Office in Louisiana confirmed that at least two people were injured in connection with severe weather. The extent of their injuries was not immediately clear. The sheriff's office said trees had also been downed, while some homes in the area were damaged. 
Video and photos shared on social media appeared to show some of the destruction, with buildings appearing to be severely damaged, while one video out of Muscle Shoals, Alabama, showed a number of objects, including a chair, flying away in a storm.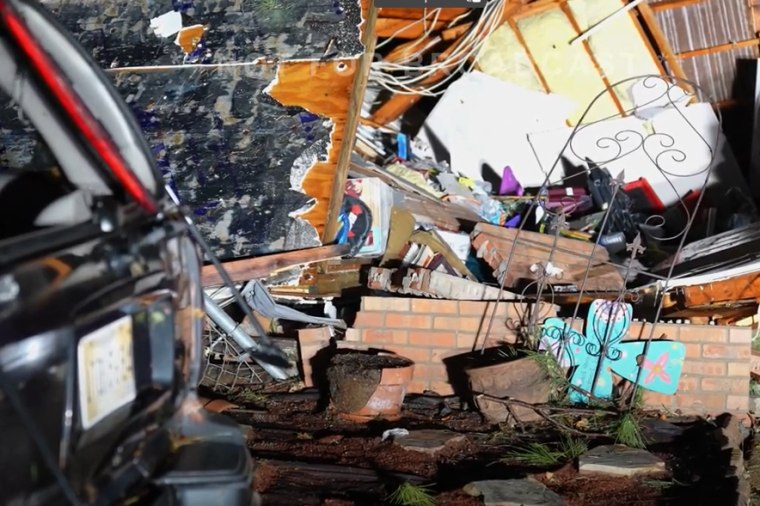 In an update shared Wednesday just before 2 a.m. ET, the National Weather Service warned that thunderstorms "capable of producing scattered damaging winds and a tornado or two" would be possible across parts of the Southeast in the morning.
A line of strong to severe thunderstorms was expected to quickly move southeastward across southern Alabama, the Florida Panhandle and central/southern Georgia through midday Wednesday, it said.
Forecasters had previously warned that heavy rain and hail the size of tennis balls were possible in the severe weather expected to continue into Wednesday.
Meanwhile, heavy snow impacted traffic in some parts of the Upper Midwest late Tuesday.
Minneapolis-St. Paul International Airport tweeted Tuesday afternoon that its runways had been closed due to fast snowfall rates and reduced visibility.
At least 378 flights within, into, or out of the U.S. were delayed as of early Wednesday morning, while at least 92 flights were cancelled, according to online flight tracker FlightAware. It was not immediately clear whether those cancellations were related to the weather.
Associated Press contributed.